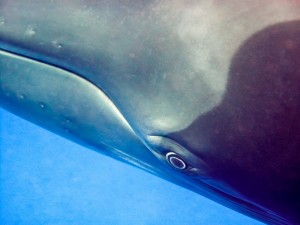 An old Scientific American article on animal intelligence, is largely about whales and the need for us to come to our senses in how we view animals.
Reading it again is for me a soothing validation of what many of us know to be true about animals. And a confirmation of my own 'sense-abilities' as a small child sharing secrets with my equine friend.
The mare was the only person I knew who had the patience to listen to me. And the only one who responded to me with wisdom and compassion. Such as, "Let their remarks roll off your back as gently as I roll your sisters off mine;" words I sensed the mare was telling me back then when I was four or five years-old.
So many of us including scientists realize that human intelligence–still to this day, assumed to be a synonym for our possibly over-developed frontal cortex–makes us different, not smarter than our animal relatives.
When we come to our senses, we  realize that it's nonsense to continue holding onto the mindset that humans are a superior race of animals.
You already know this, yet, I bet many still hold onto actually believing that eating animals is a dietary choice and not a social justice issue, and that eating animals is certainly not a form of cannibalism.
One way we might be more intelligent or more stupid, is that the human frontal cortex has the cunning ability to control and obliterate just about every species including our own from the face of the earth…except for, of course, the cockroach. S/he reigns supreme in achieving the vibrant longevity we hope to achieve by such misdeeds.
Using our animal intelligence more, so that we are more balanced in using our brain, not only makes us wholly intelligent, it makes us wholly human.
Compassion, empathy, altruism, intuition, language, building communities, building buildings, making tools, making music, making dreams come true, daycare, humor, grief, joy, play, and so on are not human traits or inventions. They're animal.
Ask your pets.
Just don't ask them to make their own dinner. Most have been living with us too long to remember how.