"The Santa Barbara Police guided me to call Jane who had helped them find stolen birds. My Bengal cat had been missing for months. This wonderful lady helped me on the phone find closure and brought peace of mind to my soul with her gift of animal communication."
–Shaharia Schaltinat, CNT, California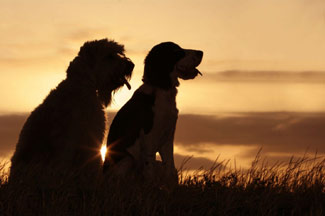 "My two young dogs ran away through our backyard gate in northern California. We searched for them all over the neighborhood but could not find our missing pets.
I immediately thought of Jane and called her; she was in New York on a business trip and returned my call shortly after my leaving a message. She immediately assisted me via phone and contacted my two dogs – she spoke on their behalf and let us know why they ran away.
Also, in talking with them through Jane's animal communication and mediumship ability, Jane was able to pinpoint where they were – in detail: the white house with white roofs, the German Shepherd around my two dogs, the description of the street, large green acres, trees with no leaves. Jane felt that someone took them in but I disagreed due to my experience with the dogs' interactions with others. My daughter and husband drove miles to the area that Jane had described, and on their return my daughter told me she saw a German Shepherd in a yard in back of a house similar to what Jane had seen in her mind's eye.
I called Jane again and she urged us to go back to the house where my daughter saw the German Shepherd and inquire about our dogs, but it was already nightfall and my exhausted husband did not want my children and I to go all the way there alone.
Lo and behold, at 7:00 the next morning, we received a phone call from a woman who had taken them in. She has a German Shepherd, and lives where Jane described, miles away from our home.
Needless to say, we were glad to pick them up and hug them!
I totally recommend Jane for any animal communication you might need – whether it is to find out what they want and/or need, 'who' they are, or, for assistance in finding your pets. She has been great in both theses areas for us."
–Cynthia Starr Makoul, President of Heartspeak in California