About recovery from emotional and physical traumas...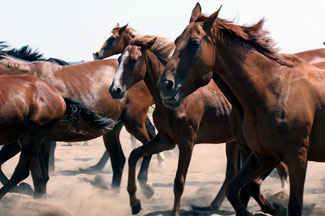 "In addition to using Reiki healing energy with success on a horse with a shoulder injury, Jane has used her tremendous gifts of animal communication to help heal mental trauma, and to help me understand my sometimes neurotic thoroughbred mares. Her messages have also been helpful in decisions for care – and even career choices of several mares.
My racehorse, Sharpen-Up-Victor, was in a critical place; he was aggressive toward the other horses and difficult to ride. I totally credit Jane with healing his life. The jockey in "Seabiscuit" has since ridden him, and he won 'on turf' in Del Mar.
Jane even helped me with my German Shepherd who sprained his wrist nearly a year before and had a very difficult time recovering from this injury.
He was depressed, lethargic, and moved stiffly and uncomfortably. Jane used Polarity acupressure with him. Within a week, he was bouncy, more alert, and best of all he got his macho guard dog edge back.
I highly recommend Jane Broccolo for both her gifts of healing and of animal communication."
–Cynthia Roche, Horse Breeder, CA
"Three years ago, my mom got me a phone session with Jane for my birthday. Toward the end of the session, Jane did long-distance energy work for Zorro, my 100-pound Malamute mix who had been limping on his hind leg for weeks.
I immediately saw a difference in Zorro, and the next day he was much better. Jane was even able to sense that energy backed up in his hips was from sexual frustration that had caused his problem; this confirmed my observation the day he hurt himself!
Recently, I called Jane again because this time, Zorro was limping on his front leg for a week.
Right after our phone session, his shoulders seemed looser so I took him for a short walk and as we walked, I felt my own back loosen up, releasing with several 'pops' the stress of the previous two weeks. My neck and shoulders had been hurting in the same place where Zorro was hurting, so this was incredible to feel the energy release in my body as well as in Zorro's when he was the one who had received the energy therapy.
It is now two days later and Zorro's limp is virtually gone. He is playful and happy again. Thanks so much Jane, I don't know what Zorro and I would do without your help!"
–Dominique Brutsche, President, CA
"My dog Brutus suffered from hip dysplasia. After a phone session with Jane, he was transformed. Brutus became peaceful and free of pain."
–Carol Walley, Animal Rescuer, GA
About resolving behavior issues...
"Jane, I have seen POSITIVE results.The second day after our phone session Daisy started sleeping in my room with Maddie and me – she is with Maddie all the time now so whatever you said to Daisy worked. Also, since your talk with Maddie, Maddie has been hanging out with the "pack" more too - not in my room by herself like before. She only pulled two things off the counter since – but the good news is she didn't destroy the items.
I am so happy with her progress I have given your number to a couple different people.
Thank you so much and I will use you again if need be."
–Wendy Moore, Realtor, CA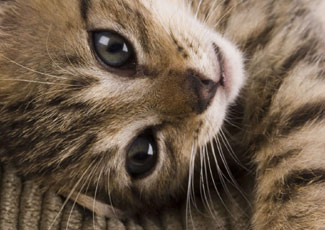 "As a former Marine Captain, never did I imagine I would call upon a therapist for any reason, much less for my cat! Dolly had spent two weeks completely hiding from me, coming out to eat and visit the sand box only when I was absent from the house. I never saw her. Soooo, I made that call to Jane for HELP!
Jane bridged that gap of trust between Dolly and me to such an extent, that now Dolly literally won't leave my side, day or night. I strongly suggest contacting Jane for solving pet problems with her animal communication."
–Tim McCollum, former Captain USMC, CA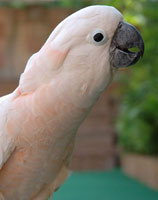 My Cockatoo, Izzy, was screaming her head off whenever I was home. Jane asked her what was wrong and told me Izzy wanted a new companion. Jane even went with us to the sanctuary to pick out Izzy's new friend.
Izzy is so much happier now and so am I in my now quiet and peaceful home!"
–Kristina Knapic, Senior Loan Officer, CA
"One session with Jane put an end to our Milo's very destructive ways. Our once angry cat is now happy and content with us."
–Peggy Stevens, Human Resources Director, CA
"Jane, I learn more about myself in one session with you than I ever could with years of going to a shrink!
Great results from our session yesterday: When I go to feed the horses in the morning, they all rush up to me except for Sabria who always hangs back. But, this morning, she walked towards me and had this beautiful loving look in her eyes! I went to meet her and she actually moved closer to me and let me wrap my arms around her! It was wonderful. We have a whole new attitude with each other, now.
And ever since we asked my Nada to stop waking me up in the middle of the night with her howls, she has! Except for the nights I forget to thank her before I go to sleep for letting me sleep:)"
–Dawn Kimball, Computer Scientist, CA
About finding missing animals...
"The Santa Barbara Police guided me to call Jane who had helped them find stolen birds. My Bengal cat had been missing for months. This wonderful lady helped me on the phone find closure and brought peace of mind to my soul with her gift of animal communication."
–Shaharia Schaltinat, CNT, CA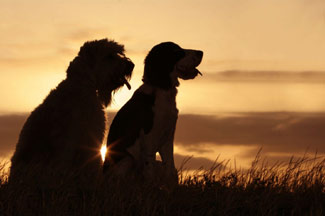 "My two young dogs ran away through our backyard gate in northern California. We searched for them all over the neighborhood but could not find them.
I immediately thought of Jane and called her; she was in New York on a business trip and returned my call shortly after my leaving a message. She immediately assisted me via phone and contacted my two dogs - she spoke on their behalf and let us know why they ran away.
Also, in talking with them through Jane's mediumship ability, Jane was able to pinpoint where they were - in detail: the white house with white roofs, the German Shepherd around my two dogs, the description of the street, large green acres, trees with no leaves. Jane felt that someone took them in but I disagreed due to my experience with the dogs' interactions with others. My daughter and husband drove miles to the area that Jane had described, and on their return my daughter told me she saw a German Shepherd in a yard in back of a house similar to what Jane had seen in her mind's eye.
I called Jane again and she urged us to go back to the house where my daughter saw the German Shepherd and inquire about our dogs, but it was already nightfall and my exhausted husband did not want my children and I to go all the way there alone.
Lo and behold, at 7:00 the next morning, we received a phone call from a woman who had taken them in. She has a German Shepherd, and lives where Jane described, miles away from our home.
Needless to say, we were glad to pick them up and hug them!
I totally recommend Jane for any animal communication you might need - whether it is to find out what they want and/or need, 'who' they are, or, for assistance in finding your pets. She has been great in both theses areas for us."
–Cynthia Starr Makoul, President of Heartspeak in CA
About dialoguing with the dying, and the deceased...
"My cat was dying of heart disease, and it was very hard for me to let him go. Jane helped me communicate with him in the last three months of his life, and after his death.
Being able to talk with him helped me to honor his wishes and let him go. I'm at peace with my loss because I now can(and do)communicate with him thanks to Jane."
–Elizabeth Avila, MS, Computer Science, CA
"I am moved beyond tears to know my fearless and wise Beau experiences dying as being full of wonder and adventure as being born was for him, and that his love for me is stronger than any physical pain could be."
–Patsy Fortier, Weim Mom, CA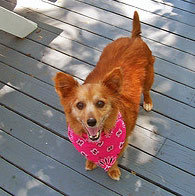 "My three deceased animals came through in spirit during a session with Jane. Amazing. They each talked about their personality quirks and how when they lived with me, had their own way of competing for my attention. It was good to reconnect."
–Howard Leshaw, Musician, NY, NY
"Jane is a gifted intuitive and animal communicator who can enter into deep states of rapport with animals. She clearly told me what was ailing my pet and gave me helpful suggestions for his welfare."
–Rev. Terri Cooper, M.A., M.F.T., CA