40% Off Your First Phone Session
When You Join
My Private Email List.

Asked to animal communicate on
TV and Radio
Featured animal communicator at private parties, animal fundraisers, and other events in California.

A volunteer for animal rights/welfare organizations with gentle approaches toward change.
"Ever wonder what's on your pet's mind?
Find out with Jane Broccolo, the pet psychic."
— Totally Pets TV
"When we listen to our animals for a change, Change happens. "
– JB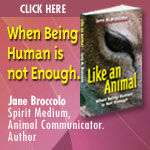 About an Appointment
There's more in the sound of your voice than you might think
Most of Jane's sessions are over the phone, so it doesn't matter where you live. Believe it or not, a photo is not needed. Because Jane animal communicates as a spirit medium, she, like many spirit mediums, can connect with your loved ones simply by hearing the sound of your voice. Resolve issues with as many pets and/or people in a session, as time will allow.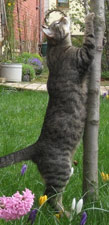 For questions about how she works, or,

for scheduling a phone or, in-person appointment,

Call Jane at: (805) 680-9432

Or email her at either address:

jane@talkswithpets.com

jane@animalselfempowerment.com

To pay for an Animal Self Empowerment session, click on a paypal button.

Fifteen-minute session $44:

Forty-minute session $88:

Sixty-minute session $118:
Thank you.