40% Off Your First Phone Session
When You Join
My Private Email List.

Asked to animal communicate on
TV and Radio
Featured animal communicator at private parties, animal fundraisers, and other events in California.

A volunteer for animal rights/welfare organizations with gentle approaches toward change.
"Ever wonder what's on your pet's mind?
Find out with Jane Broccolo, the pet psychic."
— Totally Pets TV
"It takes a beast to know Beauty."
– Field of Cows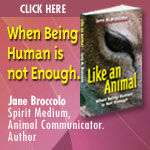 About Jane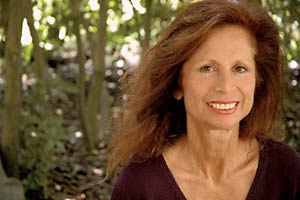 Jane Broccolo is a spirit medium, animal communicator, Polarity Wellness Educator, Reiki Master, animal rights/welfare activist, freelance writer on human-animal connections, author of the book, LIKE AN ANIMAL When Being Human is not Enough, and founder of Talks With Pets and Animal Self Empowerment (ASE).

For over two decades, she has facilitated over a myriad of human and non-human animals in fulfilling their highest potentials as spirits having an earthly experience.

Jane gives us new dimension and meaning to animal communication, a whole body conversation that affects every relationship in every area of our lives.

All benefit. And all win in relationships where the truth that we are all one has the loving space to reach heightened levels of all won.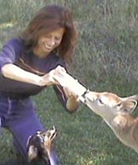 As a child with a horse and farm animals as her only friends, Jane learned like an animal to recognize Truth's Beauty in all things.

As early as age twenty, her first writing about experiencing Beauty in the undesirable was published in a local literary magazine.

Later, Jane's recognition of Beauty saved her life thanks to a field of cows.

It is the naturally underlying theme in all of Jane's work with people and their pets.

Jane is available for workshops, tele-seminars, interviews, speaking engagements, private parties, and ASE phone sessions.