"OMG, Awesome!! Thank you, Jane, and my sweet canine soulmates – Annie
and Susie!!! I always get so much out of our sessions over the years! You are amazing!!! All my relationships, starting with the one with myself are positively influenced thanks to the guidance and insights that come through."
–A pediatrician and business owner who wishes to remain anonymous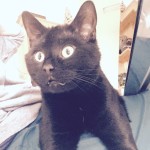 "Jane! This is a photo of King sitting on my lap! A first time ever. I can't believe that I wanted to get rid of him, he was so aloof, unapproachable, and nasty. Your session helped us so much!! Instead of clawing me every time I get close to him, he now jumps on me, and looks me straight in the eye. He even purrs, now. For a year, I wondered if he knew how. I am so grateful. Thank you so much!"
– Brandi, from Canada

"Jane, I have seen POSITIVE results since our animal communication session. The second day after our phone session my dog, Daisy, started sleeping in my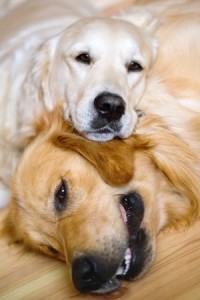 room with Maddie and me – she is with Maddie all the time now so whatever you said to Daisy worked. Also, since your talk with Maddie, Maddie has been hanging out with the canine"pack" more too – not in my room by herself like before. She only pulled two things off the counter since – but the good news is she didn't destroy the items.
I am so happy with her progress I have given your number to a couple different people.
Thank you so much and I will use your animal communication skills again if need be."
–Wendy Moore, Realtor, California
​"Jane, ​ I find myself often quietly with one or both of the kitties, just looking, listening and feeling.  There's so much more to these little things, who I now feel are not little at all, but vast living spirits, here as a reminder, and a link to the Divine.  I've never been a touchy feely kind of guy, but sometimes I pet one of these little guys, look into their eyes and I'm just brought to tears, tears of joy about what they are and what they do, and all I can do is let the tears flow and say thank you to them.
I'm so grateful for this, and so grateful for your guidance that played no small part in getting us here."
– An attorney who asked to remain anonymous​
"OMG, Jane!
I have SUCH good news for you! First, my 'seeing-is- believing photo'…proof to you, of your amazing work!!:
Of course, I called my mom the second I got off the phone after my session with you. She said that at about 7:00 her time (which would have been about half way through our session), both of the cats got extremely relaxed. George actually walked right by Nemo without even a hiss. They even stood next to each other by the food bowls, eating together!
And my mom said George was a perfect gentleman throughout the entire weekend, and he and Nemo actually played a little on Sunday!
Thank you so much for that session! It was as beneficial for me as it was for George…that's for sure!
And I've been connecting with him 2 or 3 times a day for about 5 minutes each time, just as you taught me to do in the session. I even taught my husband, Court, your way of doing it, and so now he's been having little chats with George, too:)
Thank you so very much!!"
–Tammy Butler, Colorado
"Jane, I learn more about myself in resolving pet behavior issues with you than I ever could with years of going to a shrink!
Great results from our animal communication session yesterday: When I go to feed the horses in the morning, they all rush up to me except for Sabria who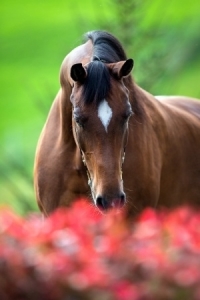 always hangs back. But, this morning, she walked towards me and had this beautiful loving look in her eyes! I went to meet her and she actually moved closer to me and let me wrap my arms around her! It was wonderful. We have a whole new attitude with each other, now.
And ever since we asked my Nada to stop waking me up in the middle of the night with her howls, she has! Except for the nights I forget to thank her before I go to sleep for letting me sleep:)"
–Dawn Kimball, Computer Scientist, California
My Cockatoo, Izzy, was screaming her head off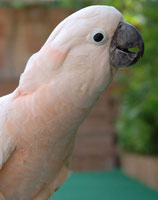 whenever I was home. Jane asked her in an animal communication session what was wrong and told me Izzy wanted a new companion. Jane even went with us to the sanctuary to pick out Izzy's new friend.
Izzy is so much happier now and so am I in my now quiet and peaceful home!"
–Kristina Knapic, Senior Officer,  California
"As a former Marine Captain, never did I imagine I would call upon a therapist for any reason, much less for my cat! Dolly had spent two weeks completely hiding from me, coming out to eat and visit the sand box only when I was absent from the house. I never saw her. Soooo, I made that call to Jane for HELP!
Jane bridged that gap of trust between Dolly and me to such an extent, that now Dolly literally won't leave my side, day or night. I strongly suggest contacting Jane for solving pet problems with her animal communication."
–Tim McCollum, former Captain USMC, California

"One animal communication session with Jane put an end to our Milo's very destructive ways. Our once angry cat is now happy and content with us."
–Peggy Stevens, Human Resources Director, California